Kirocomplex™MAX
Response to the endocrine and metabolic manifestations of polycystic ovary syndrome (PCOS)
Innovative approach for a rapid and complete response to the endocrine and metabolic manifestations of polycystic ovary syndrome (PCOS).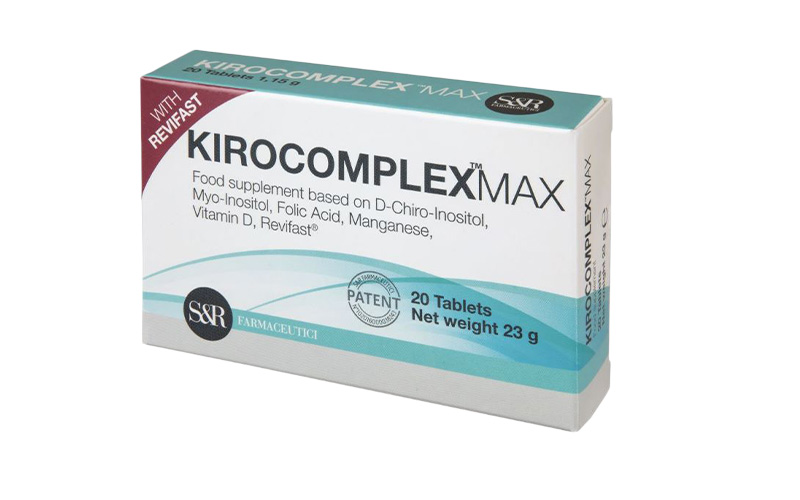 Kirocomplex™MAX is used for:
Endokrine manifestations (polycystic ovaries, irregular periods, hirsutism, acne, alopecia, infertility)
Metabolic manifestations (metabolic syndrome, obesity, dyslipidemia, hypertension, diabetes, glucose intolerance)
KIROCOMPLEX™MAX presents a complete and innovative solution to PCOS syndrome based on Revifast® technology.
REVIFAST® patent is reservatrol with a high rate of solubility and bioavailability.
Revifast® – reservatrol:
has antioxidant and anti-inflammatory effect without side effects.
improves the metabolic profile: balances the lipid profile, reduces fat and improves insulin sensitivity. Inhibits androgen production.
safe to take while pregnant. Its application reduces the incidence of gestational diabetes, preeclampsia, and repeated miscarriages.                                                                                                       
D-CHIRO-INOSITOL and MYO-INOSITOL are second messengers regulating various insulin-dependent processes.
Myo-Inositol (MYO) is an important component of the follicular microenvironment that regulates calcium metabolism, helps improve quality of the egg cell and is responsible for glucose metabolism.
D–Chiro-Inositol (DCI) has an antioxidant effect, regulates glucose metabolism helping to reduce insulin resistance, and is responsible for glycogen synthesis. 
MANGANESE
A cofactor that allows inositol to activate the mitochondrial enzyme system. Combined administration with DCI is more effective in reducing glucose levels.
FOLIC ACID
It helps lower the circulating plasma homocysteine levels. Recent studies have shown a correlation between insulin resistance and hyperhomocysteinemia. 
VITAMIN D
Improves metabolic and menstrual disorders. Its deficiency is a risk factor for the development of metabolic syndrome.
Reduces insulin resistance.
It maintains a more efficient ovarian reserve, due to its influence on the production of the AMH (Anti-Miller's hormone).
It increases the quality and successful implantation of embryos in IVF
Improves fertility in both men and women
Due to its specific composition that has antioxidant and insulin sensitive properties, KIROCOMPLEX™MAX has effect on pathophysiology of the PCOS: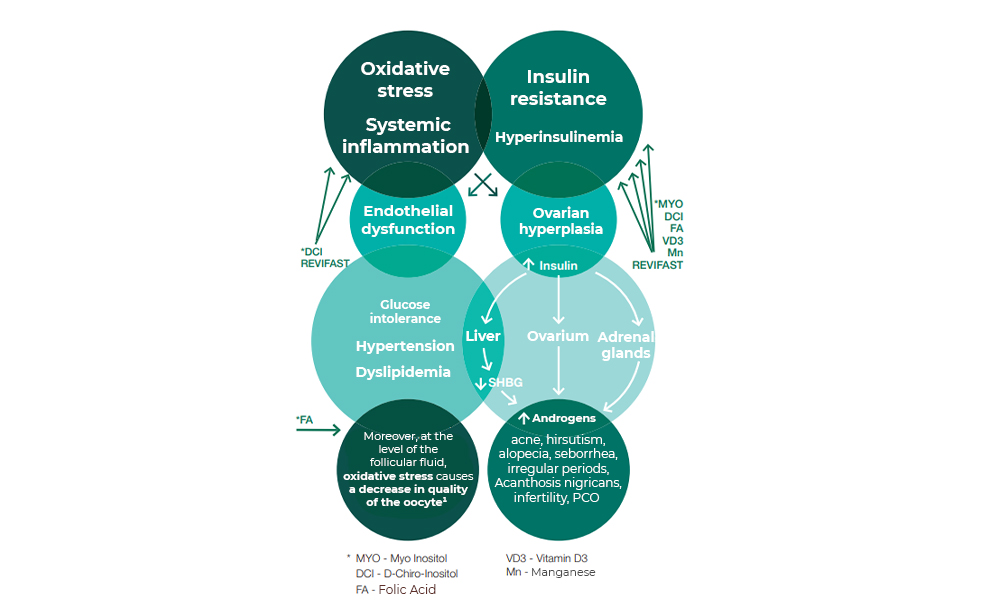 KIROCOMPLEX™MAX 
Complete solution for PCOS
Advanced formula
Patent No 102016000038243
Daily dose, 1 tablet a day,
Safe to take while pregnant and breastfeeding
Tablet formulation
KIROCOMPLEX™MAX
has effect on the pathophysiological basis of the PCOS, and is used to treat:
OXIDATIVE STRESS

Reduced oocyte quality
Metabolic syndrome
Hypertension
Glucose intolerance
Cardiovascular diseases
Male and female infertility
INSULIN RESISTANCE

Hyperandrogenism (acne, hirsutism, alopecia, seborrhea)
Irregular periods
PCO
Acanthosis nigricans
Male and female infertility
It can be most helpful in cases of adolescent hyperandrogenism and male infertility.
Active ingredients

D-chiro-inositol

500 mg

/

Myo-inositol

200 mg

/

Revifast®

of which trans-esveratrol

Manganese

4 mg

200

Folic acid

200 µg

100

Vitamin D

12.5 µg

250
*NRV–Nutrient Reference Value
Take 1 tablet per day, the dose can be increased to 2 tablets per day according to doctor's opinion.
KIROCOMPLEX™MAX does not contain gluten or lactose.
Safe to take while pregnant.
The recommended daily dose must not be exceeded. The product is not intended for persons under 18 years of age, nor for persons who are hypersensitive to any of the product's ingredients. In case of any side effects, discontinue taking the product and consult a doctor. Not to be taken at the same time as other vitamin D products.
Mosorska 9, 11000 Belgrade, Serbia
Vemax011 Pharma doo representative office Northern Macedonia - Dane Krapcev 13, Skopje
Vemax011 Pharma doo representative office Montenegro - Topliški put 1, Budva
Vemax011 Pharma doo representative office Bosnia and Hercegovina - Vlakovo 252, Sarajevo
Vemax Pharma - your trusted regional partner on the road to health!