Urocalc™
Prevention and treatment of kidney stones – a complete and specific therapeutic approach
UROCALC™ is an innovative combination of components that, with its synergistic effect, has specific mechanism of action on all factors of kidney stone formation.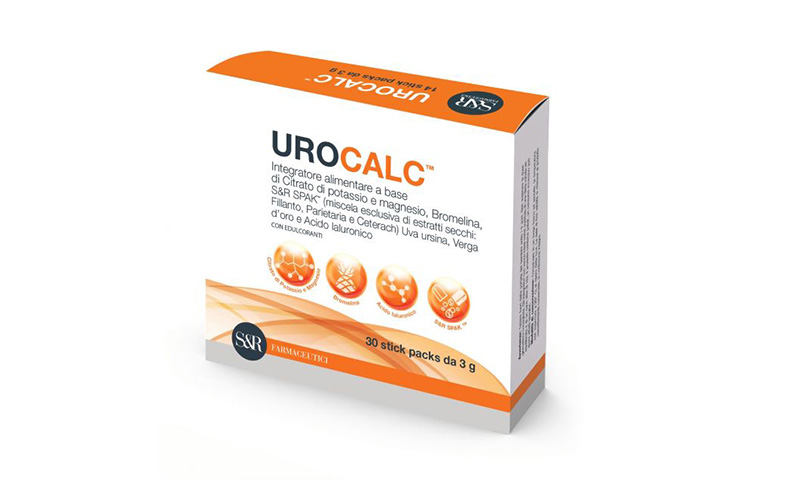 Treatment of kidney stones
Prevention of kidney stone formation in persons who have a high risk of kidney stone formation
In persons with metabolic disorders
In persons undergoing MET (Medical Expulsive Therapy) or lithotripsy
A complete and specific approach to kidney stone therapy that affects several aspects with a targeted effect aimed at:
DIRECT EFFECTS
prevents neoformation
inhibites growth 
accelerates dissolving
INDIRECT EFFECTS
stimulates diuresis
anti-inflammatory, anti-edematous, and anti-oxidative effect
facilitates passing
NON-SPECIFIC EFFECTS
lubricative
protective
regenerative
Potassium citrates and magnesium citrate are the most important ionic inhibitors that, due to their high affinity for calcium, by inhibiting the crystal formation process (crystallization, growth, and aggregation) and by having an alkylating effect on urine, are of great importance in the prevention of kidney stones.
S&R SPAKs is an exclusive and unique mixture of dry extracts of quarry plants (Phyllanthus niruri, Parietaria officinalis and Ceterach officinarum) that have an antilithiasis effect, by reducing the size and number of kidney stones.
Gooseberry and goldenrod beside the anti-inflammatory, antiseptic, and astringent effect, increase the diuresis and hence promote the elimination and diuresis of excretion of excess body fluids.
BROMELAIN has anti-inflammatory, anti-edematous and anti-oxidative characteristics. Very effective in Medical Expulsive Therapy (MET).  
HYALURON ACID lubricates, protects and regenerates the mucous membrane of the urinary tract.
Potassium-citrate

  of which Potassium

Magnesium-citrate

  of which Magnesium

S&R SPAK™, of which:

– dry herbal extract of the Phyllanthus niruri, stand. at 15 % tannin

– dry herbal extract of the Parietaria officinalis, 4:1

– dry extracts of rhizome Ceterach officinarum, 4:1

 

250 mg

150 mg

50 mg

50 mg

Dry water-ethanol leaf extract of gooseberry (Arctostaphylos uva-ursi)

    of which arbutin

dry herbal extract of the goldenrod (Solidago virga-aurea), 4:1
*NRV – Nutrient Reference Value
**GDU – Gelatin Digesting Unit
1 packet per day, dissolve the contents of the packet in a glass of water, stir until dissolved, and drink immediately after dissolution.
The product does not contain gluten or lactose.
The product is not intended for persons under 18 years of age, pregnant or lactating women, nor for persons who are hypersensitive to any of the product's ingredients. Persons who are on medication must consult their doctor before taking this product. In case of any side effects, discontinue taking the product and consult a doctor. Exceeding the recommended daily dose may have a laxative effect.
30 packets x 3 g / Net weight: 90g
Mosorska 9, 11000 Belgrade, Serbia
Vemax011 Pharma doo representative office Northern Macedonia - Dane Krapcev 13, Skopje
Vemax011 Pharma doo representative office Montenegro - Topliški put 1, Budva
Vemax011 Pharma doo representative office Bosnia and Hercegovina - Vlakovo 252, Sarajevo
Vemax Pharma - your trusted regional partner on the road to health!