Cardiovasc plus

®

A unique formulation of 10 active ingredients for the treatment of cardiovascular and cerebrovascular diseases.
The effect on the cardiovascular system:
reduces atherosclerotic plaques
reduces the risk of cardiovascular events and mortality
Regulates the level of blood lipids and sugar
↓ LDL,↑ HDL, ↓triglycerides
The effect on the central nervous system:
reduces the risk of cerebrovascular events and mortality
improves memory and remembering ability
Omega-3 from krill oil:
high bioavailability

lowers triglycerides by 11%
lowers cholesterol by 13%
lowers LDL by 32%
increases HDL by 44%
without unpleasant smell and taste
Phospholipids
Astaxanthin is a potent antioxidant (approximately 500 times stronger than vitamin C and vitamin E)
Q10 of natural origin
It is recommended as a supplement to statins and betablockers that lead to a deficit in coenzyme Q10 – lower probability of muscle fatigue
It is recommended to patients with cardiomyopathy and heart failure
Magnesium contributes to electrolytic balance, energy generation, and nervous system functioning
Iron
Vitamin B6
Vitamin B12
contribute to the creation of red blood cells

contribute to the normal functioning of the immune system

contribute to energy generation and play a significant role in cell division
Selenium protects cells from oxidative stress and contributes to strengthening of the immune system

Zinc contributes to the DNA creation, fatty acid metabolism, and it protects cells from oxidative stress 
Krill oil – superior antioxidative activity!
54 times stronger antioxidant than fish oils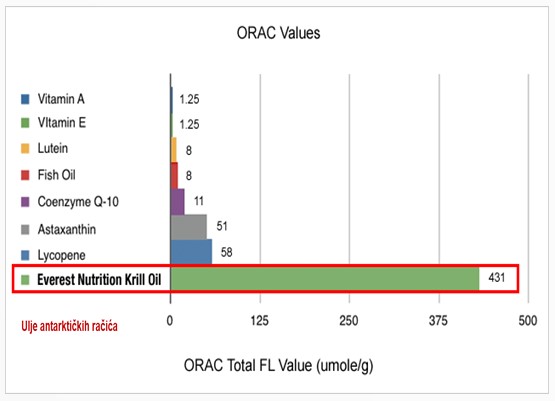 Oxygen Radical Absorbtion Capacity
a powerful antioxidant that penetrates blood-brain barrier and, in that manner, exerts antioxidative properties on the brain tissue as well.
It has a beneficial impact on:
Cerebrovascular

ischemia

Ischemic heart disease
Atherosclerosis
Anti-inflammatory effect
(regulation of the production of NO, TNF, and PGE2 and the inhibition of NF-kb and IL-1b)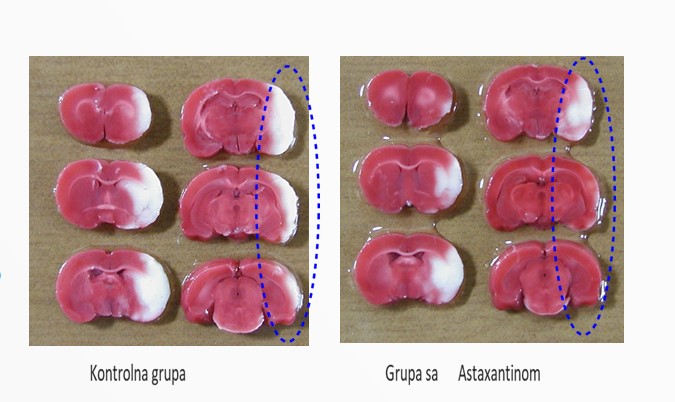 In the experimental model, the overall surface of the ischemic
lesion was reduced by 40% in the group treated with ASTAXANTHIN
CardioVasc Plus-Omega 3 – conclusions of studies and recommendations:
Maximum effect in the first months after myocardial infarction (IM) – a considerable early effect on overall mortality in the first 3 months upon IM and on sudden heart mortality after 4 months.
Its supplementation to statins reduces the risk of significant coronary events by 19%. Positive effect on heart and the process of atherosclerosis:
↓Malignant ventricular arrhythmias (stabilization of the myocyte membrane)
↓Heart rate
↑ Endothelial relaxing (through ↑NO &↑NO independent mechanisms)
↓Blood pressure
↓Sudden cardiac death
↓Overall and CVD mortality
Anti-proliferative effect (↓proliferation of smooth muscle cells)
Antithrombotic effect (↓ platelet reactivity, ↓anti-coagulation)
Anti-inflammatory effects (↓Inflammatory cytokines, ↓Mitogens, ↓Expression of adhesion molecules)
CardioVasc Plus
administration:
patients with severe lipid disorder

patients on statin or betablocker therapy (+ Q10)

patients with myocardiopathy and/or heart failure (+ Q10)

Alternative for statin therapy
At the primary prevention with hypercholesterolemia patients
At monotherapy (a patient does not need to use statin or delays the administration of statin)
Three months of dieting and supplementation and with high-risk patients – drugs are not immediately introduced

Achieving target values – the need for introducing statin is excluded – there is no fear of adverse effects of statin

It is in guidelines: National Guide on Lipid Disorders
In the combination therapy with statins – if previously CardioVasc and dieting fail to achieve target values 
In secondary CVD prevention – statin + CardioVasc Plus
Additive effect in the combination therapy with statins for the reduction of CVD disorders and lipid correction
administration of lower dosages of statin – lower risk of the occurrence of side effects of statin

Higher safety in comparison to fibrates in the combination therapy with statins
Instead of statin with patients that do not tolerate it or do not want to take it
Lipid status disorder
The increase of the cholesterol level by 2-3% increases the risk of ischemic heart disease by 1%,

The reduction of the level of LDL cholesterol can reduce morbidity and mortality by 40%,

The increase of the HDL level by 1mg/dl reduces the risk of cardio-vascular diseases by 2-3%,

The rise in the triglyceride levels (TCG) is an independent risk factor for the occurrence of cardio-vascular diseases

Preferred values of lipid fractions for general population:

Target values of LDL cholesterol depending on the level of risk – European recommendations:

Limiting effect of statin usage:
Statins have limited effect on ↓TCG and ↑HDL!
After the statin therapy, there is still a significant cardio-vascular risk
Side effects of statin are frequent and serious (FDA warning): diabetes, CNS (confusion and forgetfulness), hepatotoxicity, rhabdomyolysis, myalgia, muscle cramps
There is a large number of statin interactions with fibrates, anticoagulants, digoxin, and other inhibitors of cytochrome P450!