Pro Kryon® female
A unique composition that has multiple effects on the female reproductive system
Pro Kryon® female contains a unique combination of important ingredients for the female body, which, with their multiple effects – antioxidative, immunomodulatory, anti-inflammatory, and constructive – help primarily follicle development, improve ovulation, reduce the aging of the ovum, regulate menstrual cycles in women, and play a crucial role in the normal creation and development of the fetus.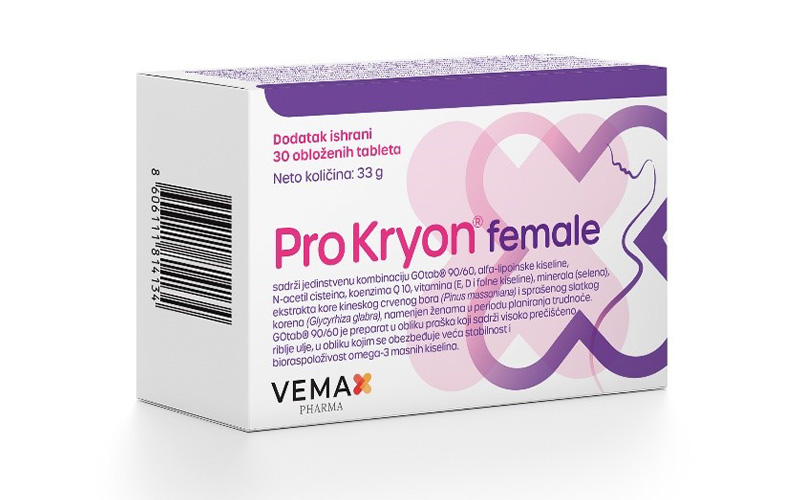 Female infertility
Preconception – pregnancy planning
Anovulation – Absence of ovulation
PCOS – polycystic ovary syndrome
In the process of in vitro fertilization
Fish oil is a source of omega-3 fatty acids , EPA and DHA acids, which are precursors of eicosanoids and are components of phospholipids of cell membranes. DHA participates in the development of the brain and sense of sight in the prenatal and postnatal period.
Alpha-lipoic acid is a fatty acid with a strong antioxidant effect. It helps restore intracellular antioxidants (such as glutathione).
Chinese red pine (Pinus massoniana) is a conifer species that grows in China. The main constituents of red pine bark are proanthocyanidins (OPCs). OPCs have pronounced antioxidant and immunomodulatory effects.
N-acetylcysteine is a derivative of the amino acid L-cysteine, required for the synthesis of Glutathione – one of the most important antioxidants in the human body.
Coenzyme Q10 is an integral part of the respiratory chain and participates in the synthesis of ATP. It acts as an antioxidant and prevents oxidative damage to proteins, oxidation of LDL. Adequate supplementation with coenzyme Q10 stimulates: the development of follicles, improves ovulation, reduces the accelerated aging of egg cells, and contributes to the regeneration of vitamin E.
Selenium contributes to the normal function of the thyroid gland, the normal function of the immune system, the maintenance of normal hair and nails, as well as the protection of cells from oxidative stress. Increased oxidative stress caused by selenium deficiency results in improper maturation of follicles and irregular cycles, and decreases the chance of conception.
Vitamin E is a powerful antioxidant and regulator of prostaglandin synthesis, and plays an important role in the vitality of granulosa cells and the quality of oocytes.
Sweet root (Glycyrhiza glabra) contains triterpene saponosides, which are responsible for the sweet taste and biological activity. Licorice root is traditionally used to alleviate the symptoms of digestive problems – dyspepsia.   
Vitamin D contributes to the normal absorption/utilization of calcium and phosphorus, the normal level of calcium in the blood, plays a role in the process of cell division, contributes to the normal function of the immune system, the maintenance of normal muscle function, as well as normal development of bones and teeth. It plays a vital role in securing the normal functioning of the reproductive system. There is a large percentage of patients with PCOS who are deficient in vitamin D, which emphasizes the importance of an adequate supply of vitamin D.
Folates also play a role in the process of cell division, contribute to normal psychological function, normal synthesis of amino acids, normal function of the immune system, normal metabolism of homocysteine, reduction of fatigue and exhaustion, and participate in normal blood production.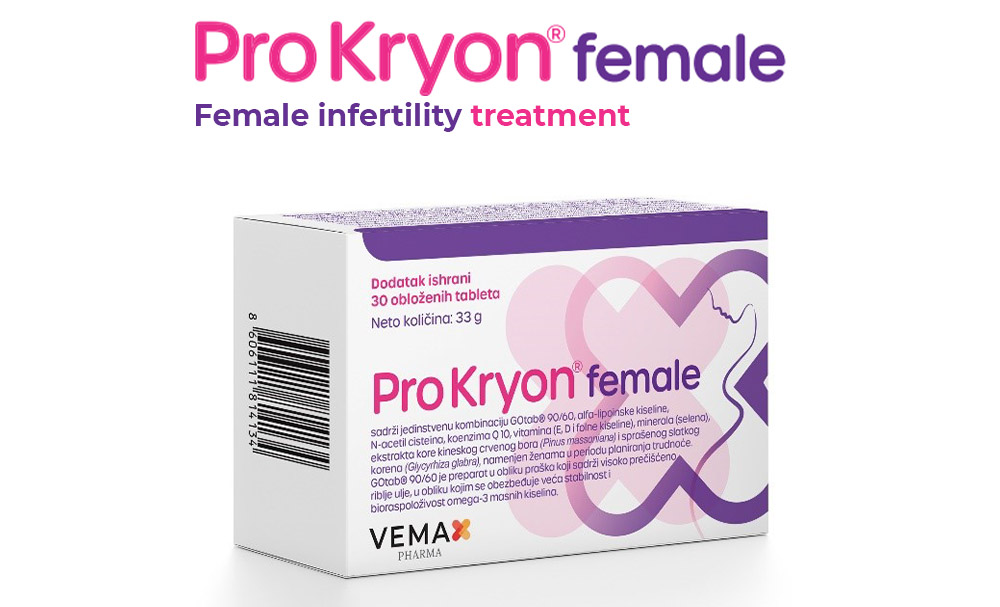 Active ingredients

1 coated tablet
(daily dose)


GOtab ® 90/60 (contains fish oil)

150 mg

/

Alpha-lipoic acid

150 mg

/

Dry water-ethanol extract of Chinese red pine bark (Pinus massoniana), stand. at min. 95% oligomeric proanthocyanidins (OPC)

100 mg

/

N-acetylcysteine

100 mg

/

Coenzyme Q10

30 mg

/

Selenium

55 µg

100

Vitamin E

12 mg of α-TE

100

Sweet root (Glycyrhiza glabra)

15 mg

/

Vitamin D

10 µg

200

Folic acid

600 µg

300
*NRV – nutritional reference value
The recommended daily dose must not be exceeded. The product is not intended for people under the age of 18, pregnant women, nursing mothers, people with chronic liver and kidney diseases, cardiovascular diseases, as well as people hypersensitive to any of the product's ingredients. Due to possible interactions, people who are on medication should consult a doctor before use. In case of any side effects, stop using the product and consult a doctor. Do not take simultaneously with other products containing vitamin D. This supplement contains fish products.
Mosorska 9, 11000 Belgrade, Serbia
Vemax011 Pharma doo representative office Northern Macedonia - Dane Krapcev 13, Skopje
Vemax011 Pharma doo representative office Montenegro - Topliški put 1, Budva
Vemax011 Pharma doo representative office Bosnia and Hercegovina - Vlakovo 252, Sarajevo
Vemax Pharma - your trusted regional partner on the road to health!